I may have said in my previous post that I recently did a project in my history class on a based on a true story project. That I chose Ned Kelly. Wel, the reason I chose him is because Australian history has always fascinated me because if I can get the chance to learn about anything, you can bet a million dollars I'll get so into it, I'll never want to stop learning about it. Well anyway, in my history class, we had to choose a movie based on a true story. Well, I chose Ned Kelly.
http://en.wikipedia.org/wiki/Ned_Kelly
Edward 'Ned' Kelly was born in June 1855 in Victoria, British Empire. He died on November 11, 1880, in Melbourne, Victoria, British Empire. He was only 25. He was an Irish-Australian outlaw who was considered a cold blooded killer by some and a folk hero by others because he was considered to be an Irish-Australian symbol of resistance against the British who were trying to take over Australia. I found out that during the Colonial times, England would dump it's prisoners off in Australia, and for some reason, The Australians or Aussies as some call them do not like or care for the English or Brits as some call them.
Crime obviously started early in the family because his father was an Irish convict, and he often had run-ins with the Victoria police. In 1878, after an unwarranted search of his home, he killed 3 policemen and after that, Kelly and his gang were considered outlaws. On June 28, 1880, in Glenrowan, Kelly was dressed in his homemade armor and helmet and was sent to jail. In November 1880, he was hanged to death at Melbourne Gaol. His reputation made him an icon in film, history, folklore.
In 1869, his life of crime started when Kelly was 14. He was arrested for assaulting a Chinese pig farmer named Ah Fook. He claimed that Kelly had robbed him and slept with his sister. He spent 10 days in jail before being labeled a juvenile
bushranger
. In October 1870, he was arrested once again, this time for assaulting a small business owner, Jeremiah McCormack. He sent McCormack's childless wife a disturbing letter with calves' testicles enclosed. After that, he ran into Isaiah 'Wild' Wright and they formed a gang. They started stealing horses. Kelly was had been free from jail and also 16 at the time and him and Wright were sentenced to 3 years in prison, along with brother in law Alex Gunn. In September 1877, Ned was arrested again, this time for drunkenness. While having a police escort, he broke free and ran into a shop, and when the police tried to restrain him, he just gave up and was fined. One of the police officers, Constable Lonigan, who was later shot by Kelly, supposedly blackballed him, which means he grabbed and squeezed his testicles. Kelly had made a promise, "If I ever shoot a man, Lonigan, it'll be you!" On October 28, 1878, Ned Kelly and his gang were wanted men, and there was a search for the Kellys by Constables McIntyre, Lonign and Scanlon. There was a rumor that they would be hiding in the Stringybark Creek, and there was a team of police from Mansfield, and when they approached Kelly, Lonigan pulled out his service revolver when Constable McIntyre threw his arms up and Kelly shot Lonigan, just like he said he would. When McIntyre called on them to surrender, Scanlon went for his gun and Kelly shot him too. McIntyre left uninjured.
They also robbed banks, the one in Euroa on Dec. 10, 1878, it was the National Bank. They took the employees of the bank hostage and Kelly posed as a policeman, and dressed up one of teh hostages in his clothes, claiming that he was Ned Kelly. No one was injured in the robbery and they got away with 2,260 dollars, which today is equal to $100,000. On Feb. 8, 1879, they robbed the Jerilderie bank. They broke into the local police station and put officers Richards and Devine in their own cell! They took the clothes of the officers and left, blending into the crowd, saying they were reinforcements from Sydney.
On June 26, 1880, Ned Kelly was tried in court for the crimes he committed. It was discovered a police informant had been the one to spill the beans on Kelly and his gang, so his gang stopped by the Glenrowan Inn because it was said that a vital piece of police information was there and his gang stopped all the cars on a passenger train carrying this info. The members of the gang were all heavily armored with armor that could repel bullets, but sadly left the legs vulnerable. They all ahd helmets and was said to weigh 96 pounds, and Byrne's armor was said to be the best. Byrne was a member of the gang. On the helmets there were 2 slits for the eyes and they covered the entire head. Then there was a firefight at the inn, and Kelly was hit multiple times by police, one bullet hit him in the left arm and another hit him in the foot. All because of a flaw in his armor. This armor of his left the torso unprotected and Kelly was shot repeatedly in the legs, and when he fell, a shotgun blast injured his hip and right hand. From the fight in the hotel, members of his gang died, Joe Byrne died from massive blood loss.
On November 11, 1880, he was sentenced to hang to death for the murder of Constable Lonigan at Melbourne Gaol. There was even a petition to spare Kelly's life, that had over 30,000 signatures on it! For the armor, all 4 suits consisted of a breast plate, back plate and helmet. Joe Byrne's suit was the only one without an apron to protect the genital area and thighs and as a result of that, he died from a shot in the genitals. To keep them all together on the body, they were all strapped on using leather straps, while the helmet just sat over the head. Kelly's helmet had padding in addition to Kelly wearing a skull cap to take some of the weight off his head. His armor is now on display in the State Library of Victoria. After he died, his body and organs were removed for study, and his remains were buried in Melbourne Gaol's mass graveyard.
Modern times
On Nov. 13, 2007, Constable Fitzpatrick's service revolver was auctioned off for $70,000 in Melbourne. In Glenrowan, Victoria, one of the gaols that imprisoned Kelly has been turned into the Ned Kelly Museum. And there were even movies made about him, like in 1906-The Story of the Kelly Gang, another with Rolling Stone Mick Jagger as the the title role of Ned Kelly(1970), and another, Ned Kelly(2003) with Geoffrey Rush, Heath Ledger and Orlando Bloom. Some would consider him to be like an Australian Robin Hood, a sign of resistance against British rule in Australia.
With the movie Ned Kelly in 1970 starring Mick Jagger, people said it was unfair to use someone English as the role, but what alot of people don't know is Mick Jagger is actually half English from his father's side and half Australian from his mother's side, and also about the movie being filmed in New South Wales, instead of Victoria like the real Kelly.
In 2008, the DC comics, the Batman comics introduced a villain named Swagman with armor that strangely resembles the armor Kelly wore.
The real Ned Kelly
His armor on display at the State Library of Victoria
A wanted poster for Ned Kelly
Some pics of Mick Jagger as Ned Kelly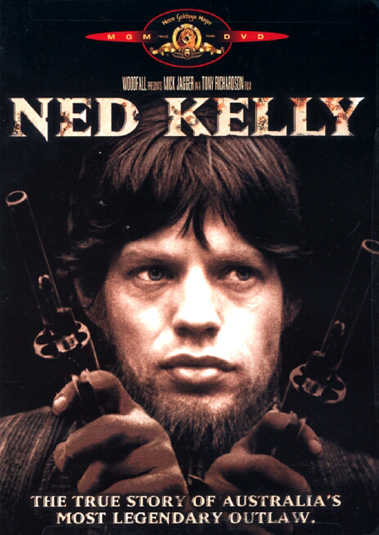 Heath Ledger as Ned Kelly