Yeah, the title is what it is. TV Shows. Everyone has at least one favorite, if not one, maybe 2, 3 or more. When it comes to favorite TV shows for me, it doesn't surprise a lot to know that quite a few of the shows I watch have at least one thing in common with other things: they either have an Asian actor or actress on it or it takes place in England. I guess it's because this show is awesome and maybe I have a thing for English guys or something. Not surprising, huh?
Here's a picture of one of my favorite TV shows, Top Gear, and I mean Top Gear UK. This one kicks the American version's butt!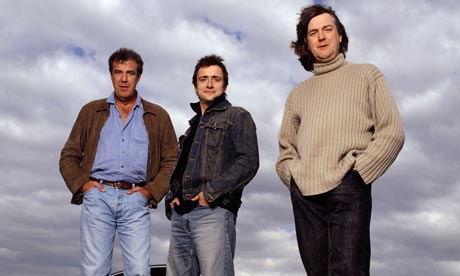 My favorite one is the one in the middle, with the brown hair and blue jean jacket. For those who actually read this and actually watch Top Gear UK, you'll know who these guys are and you'll know who I mean when I say the one I like is Richard Hammond.
Law and Order:SVU
My favorite one is the one on the far right, B.D. Wong. He is so cute. I love his character on the show, Dr. George Huang. He is so good looking, it's sad to know he's gay, but it don't bother me, it doesn't matter what his sexuality is, I still think he's cute, he's still my little Chinese fortune cookie.
Cake Boss
I love the one guy standing up right next to Buddy(one in the middle for those who may not know). The one with his hand on Buddy's shoulder is my favorite, Remy. He's so cute. I love what he does with cakes and everything. I love watching this show because it's a good show and it's so interesting to see what he does with cake. And plus, friends of mine always say I have a thing for Italian guys........
The Sopranos
What's kind of funny and weird at the same time is that my stepdad Greg is Italian and his costume at Halloween last year was the guy in the blue jacket at the far right. Alot of people ask me why I like this show, they say it's violent and almost glorifies mob connections, I tell them it isn't so bad, I personally like the one 3rd from the left with the tan shirt because he's really sexy, even his name is cute, Michael Imperioli, if that's not Italian, come on, some people believe he's not Italian, can u believe that? My other favorite is the one 2nd from the right, with the brown shirt on, he's Stevie Van Zandt, a guitarist with Bruce Springsteen and the E-Street Band. Trust me, I think this guy is way cuter on The Sopranos than in real life. And my other fave is the one to the far right, his name is Federico Castellucio, and maaaaaaaaaaaaan is he HOT!