I've heard this expression used any number of times, but when I was younger, I never knew what this meant, until later when I found out that it described the UK, or England.
I found out that there are some very and I mean VERY rude stereotypes about the people from this country, and usually, I just assume people are nice until I get to know them better, so I guess it makes them happy. Now mind you, I do not follow these stereotypes, I mean, what kind of girl who watches Top Gear and Mr. Bean would think this? Now I really do wonder how the hell some of these are even considered stereotypes! Now this is coming from the kind of girl that would look at Daniel Radcliffe and almost have a heart attack seeing him shirtless!! Here are some very and I mean VERY RUDE stereotypes!!
Bad teeth, yellow teeth, big teeth
Bad hygiene
Snooty, stuck up
Boisterous
Obsessed with soccer
Obsessed with the Queen
Heavy smokers/drinkers
Tight-fitting clothing
Very mouthy
British men are gay
Some more common stereotypes include:
Suave, romantic lovers
British women will be stuck up
All British men will be called Sir(i.e. Sir Paul McCartney, Sir Mick Jagger, Sir Michael Caine), or British women will be called Dame(Dame Helen Mirren, Dame Maggie Smith)
That British men will be incredibly good looking with a cute accent or tall, thin and ugly
That all people in England walk around wearing a bowler hat, carrying an umbrella, saying things like "Cheerio!"
And there are also stereotypes in the media, like movies, news, etc. Here are some of them:
Brits have been shown as being rude, prudish
American films always love to show the villain as being someone with an English accent or someone English in general. A good example is the Imperial officers in Star Wars, all of whom had English accents. But they never show any one who is good with an English accent, like Obi-Wan Kenobi or C3PO in Star Wars who both had English accents
They will also be shown as having upper class accents(i.e. Hugh Grant) and being gay
A stereotypical role in American movies for Brits include the Butler or Gentleman
Disney movies are notorious for the 'Bad Brit' stereotype, but back then, no one was really noticing these kinds of things. Some examples include:

Judge Frollo-Hunchback of Notre Dame- voiced by Tony Jay, a white British actor, even though the character is supposed to be French
Jafar-Aladdin
Maleficent-Sleeping Beauty
Professor Ratigan-The Great Mouse Detective
Lady Tremaine-Cinderella
Scar-Lion King-voiced by white British actor Jeremy Irons
Mrs. Trunchbull-Matilda
Count Olaf-A Series of Unfortuntate Events-Jim Carrey
No one may stop and think about all the people we like that may be from England, such as:
Judas Priest
The Top Gear crew(Jeremy Clarkson, Richard Hammond, James May)
Colin Firth
Kate Winslet(one of my fave actresses!)
Jeremy Irons
Naveen Andrews
Marianne Faithfull

Hard to imagine why Mick Jagger wouldn't go out with her? She's beautiful!

Cilla Black
Hugh Laurie
Lynn Redgrave
Vanessa Redgrave
And there are even well known TV shows out of England that people like to watch on TV, like Top Gear, Mr. Bean, My Family, Keeping Up Appearances, Absolutely Fabulous. It's actually amazing that shows like this really get on with people in the US.
Mr. Bean
My Family(these 2 remind me of my mom and stepdad!)
Ben reminds me of my stepdad Greg ,and Susan reminds me of my mom Brenda!! and they act just like them I swear!!
Keeping Up Appearances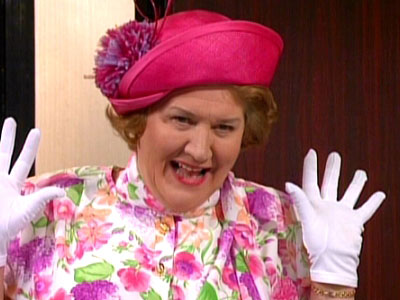 Absolutely Fabulous
The Young Ones