http://en.wikipedia.org/wiki/David_Bowie
http://www.imdb.com/name/nm0000309/bio
David Robert Jones was born on January 8, 1947 in Brixton, London, England. He is an English born musician, actor, music arranger, record producer best known for his somewhat freaky alter ego Ziggy Stardust in the 1970s, and the band with it, The Spiders.
Man he was cute in the 1960s!!!
People got their 1st taste of Bowie when in July 1969, his song Space Oddity, hit #1 on the UK charts. In 1972, he made a debut as the somewhat weird Ziggy Stardust and the Spiders, a band inspired by the glam rock era of the 1970s. In 1975, he made his 1st American crossover song, Fame, with John Lennon, and his album Young Americans hit #1 on the charts. As the years went on, he got more popular, especially in the 1990s and 2000s, with songs like Let's Dance, Modern Love, Under Pressure, China Girl.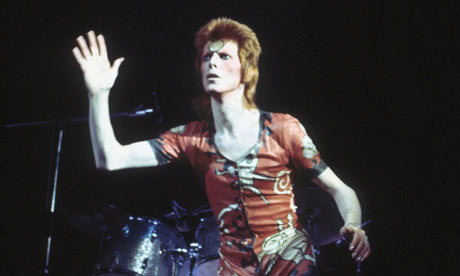 His nicknames include Ziggy Stardust, and the Thin White Duke. In the 1960s, he changed his name from David Jones to David Bowie to avoid confusion with The Monkees lead singer Davy Jones.
Spouse
Angela Bowie: March 19, 1970-February 8, 1980, divorced, 1 child
Iman: June 6, 1992-present, 1 child
Trademark:
Constantly changing appearance
Wide ranging vocals
His one permanently dilated pupil gives him the appearance of 2 differently colored eyes.
Trivia
Both eyes are blue, but due to a fight long ago, one eye is dilated and appears darker
Has performed on several occasions with Mick Jagger, Queen, Iggy Pop, Al B Sure!, Tina Turner, Annie Lennox, Nine Inch Nails, Bing Crosby
Lied about his bisexuality to give more mystery to himself
In July 2004, underwent a triple bypass on his heart
Voted #12 on VH1's 100 Sexiest Artists. I really don't know how this one happened, or how Mick Jagger got #4 while Steven Tyler got #21
In the 1960s, he and a bunch of his friends formed a band called the Konrads, and their manager was a guy named Leslie Conn. He quit the band later and joined the Manish Boys, a blues-rock band. He said he dreamed of being like Mick Jagger, and what's funny is that later on, he would do a version of the song Dancing in the Street with Mick Jagger.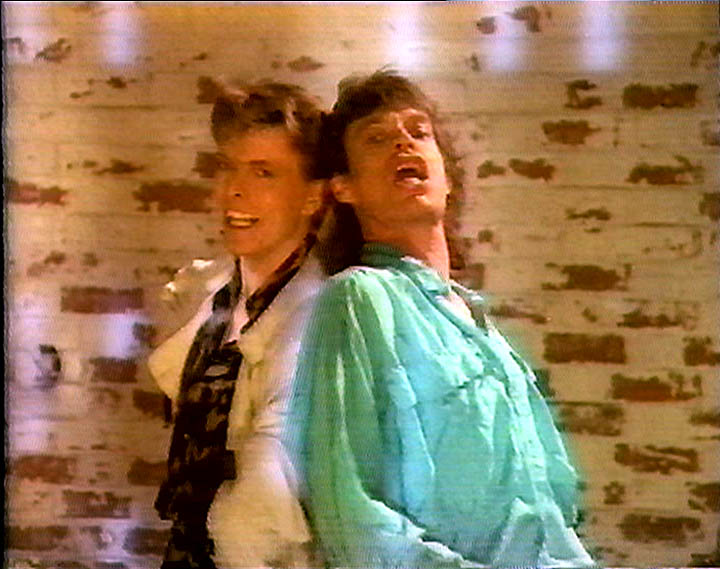 This is from the video he and Mick did, for the song Dancing in the Street.
In 1984, Bowie paired up with Mick Jagger and they both did a version of the Martha and the Vandellas hit Dancing in the Street. The video is on YouTube now. He has also gone in to acting. One of the movies he has been in is the movie The Prestige, with Hugh Jackman and Christian Bale, where he played Nikola Tesla. Some of the other movies he was in include Basquiat, which is about Andy Warhol, who he plays, he was in the SpongeBob Squarepants movie Atlantis Squarepantis, he did the voice of the Lord Royal Higness, he played a fashion judge in Zoolander, with Ben Stiller and Owen Wilson, in Martin Scorcese's 1988 movie Last Temptation of Christ, he played Pontius Pilate, and in the movie Labyrinth, he plays Jareth, the king of the goblins.
Labyrinth
Strangely enough, he looks dead on Andy Warhol!
Zoolander
First time I saw this, I never knew who David Bowie was, I swear!!
Bowie as Nikola Tesla in the Prestige